This new year, we are starting with a bang! A brand new blog to share all things TEASIG. What better way to start this blog than with an article introducing TEASIG to you from our Editor and Interim Coordinator Maggi Lussi Bell.
Tests and exams have undergone many changes and come a long way since the first UCLES Certificate of Proficiency in English, a 12-hour exam when it was introduced in 1913. The Testing, Evaluation and Assessment SIG cannot boast such a long history, but it does date back to 1986 and has responded to the substantial changes in the field since then. Please read on to find out what TEASIG has to offer and what we are doing today.
Our mission
TEASIG's main mission is to address its members' needs, respond to their interests, and support their professional development in connection with testing, evaluation and assessment. This applies to all areas of English language teaching, including teacher appraisal and curriculum, programme and institutional evaluation. We endeavour to keep our members abreast of developments in the field and provide a platform to connect students, teachers, educators, and testing, evaluation and assessment experts worldwide.
Who we are
TEASIG has over 250 members all around the globe – no fewer than 46 countries were represented at our online conference in September 2021!
The TEASIG Committee currently consists of seven members, whose diversity of skills and areas of expertise help ensure the smooth running of the SIG.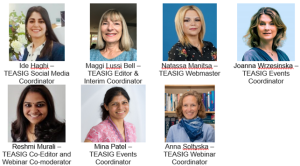 What we do
In order to achieve its aims, TEASIG
arranges specialised plenaries, talks and workshops at international events;
holds an Open Forum at the annual IATEFL Conference;
publishes a selection of articles, reviews and reports in Testing, Evaluation and Assessment Today at least twice each year;
regularly hosts webinars on current testing, evaluation and assessment issues;
offers an annual scholarship to support members in attending the IATEFL Conference; and
makes its previous publications and webinars available to members.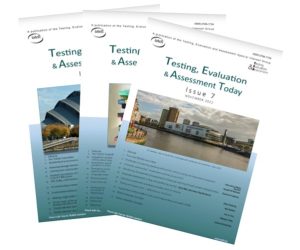 You can find out about our previous and upcoming events from our website.
Getting involved
We hope this brief introduction has whetted your appetite to find out more about TEASIG and to join us at one of our future events. Our webinars, which are open to both members and non-members, are a good place to start. Details are available on our website TEASIG online, where you can also learn more about the SIG and how it strives to serve the EFL testing and assessment community. In addition, if you wish to contribute to our blog or our newsletter check out this page: TEA Today.
You can find out about our previous and upcoming events from our website: TEASIG online.
Author bio:
Maggi Lussi Bell is based in Switzerland, where she taught and tested at the Zurich University of Applied Sciences for 28 years. Now semi-retired, she has been TEASIG's Interim Coordinator since 2021 and Editor of Testing, Evaluation and Assessment Today since 2017.