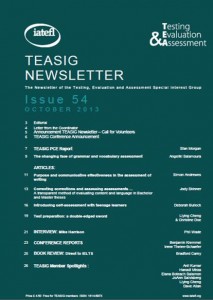 In the TEASIG Newsletter you can read about other colleagues' experiences, research and ideas. The newsletter contains interviews, reviews, a letter from the co-ordinator, articles, ideas, tips, reports from TEASIG events and an editorial. There are two issues every year but that depends on our members sending us articles to publish. If you would like to contribute to the newsletter just contact the editor if you have something you want to share with us.
If you would like to submit an article for the TEASIG newsletter, please read the guidelines below, and contact the Joint Editors, Maggi Lussi Bell and Judith Mader  (teasigeditor@iatefl.org).
The deadlines for submissions are:
31 January
30 June
30 September
Read a sample article here.
Our guidelines
The main things are as follows:
Articles do not need to be long and should not generally be longer than 2000 words.
Graphics or diagrams should be sent as separate files.
Only up to 5 references should be given (if at all). Otherwise they can be "provided on request".
Pieces do not need to be scholarly and should not have been published elsewhere.
———————————————————-
Could you feature in the TEASIG Member Spotlight in the next Newsletter?
Answer the questions below in an e-mail to the TEASIG Newsletter Editors (e-mail addresses above), along with a photo of yourself, and depending on how many members reply, one or more TEASIG Member Spotlight features will be included in forthcoming issues.
Don't feel you have to answer all the questions and if you feel like adapting them slightly to suit your own particular circumstances this is fine too. You can also reply as a group of colleagues or fellow-testers. However, the feature will not be longer than a single page and will be in Q&A interview format on the page.
TEASIG Member Spotlight questions
Where are you based?
How long have you been there? / Which other countries have you worked in?
How long have you been a member of IATEFL?
Why did you choose TEASIG as your SIG?
Are you a member of any other SIGs?
What do you get out of TEASIG?
What other services or activities would you welcome?
What sort of work do you do?
How much of your work time is spent on testing, evaluation and assessment?
Do you see yourself as more of a teacher or as more of a tester?
Do you work in a team or alone?
Do you set tests?
What sort of tests are they? How high are the stakes for the test-takers?
Are the tests you set published in any form?
Do you enjoy setting tests?
Can you use the same set of skills and principles in several different contexts?
Do you carry out research on testing and related fields?
Have you published on testing issues?
Have you spoken at conferences on testing issues?
Do you discuss testing issues with colleagues?
Do you feel qualified to set tests?
If you do not set tests, what testing-related work do you do (advisory, marking, curriculum design …)?