Welcome to TEASIG, the Testing, Evaluation and Assessment Special Interest Group of IATEFL.
TEASIG is a professional body for the needs and interests of members of IATEFL in connection with testing, evaluation and assessment in all areas of English language teaching.  TEASIG aims to connect teachers and experts worldwide
TEASIG is a part of IATEFL, so in order to become a member of TEASIG you first have to become a member of IATEFL and select TEASIG as your special interest group during the registration process.
This site is your door to TEASIG and your way of connecting to people, resources and ideas across our fields.
Join TEASIG and find out more! 
Meet the TEASIG committee:
TEASIG Today Issue 5 coming soon for TEASIG members
Log into the main IATEFL website and click on My Resources to access the latest issues.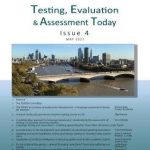 Contribute to TEASIG Today Issue 6! Call for contributions TEA Today 6
———————————————————————-
Next TEASIG webinar:
See the Forthcoming TEASIG Events page for full details of the next TEASIG public webinar:
27 October 2021 0900 UK / 1000 CET
"Structuring and Designing Assessment for Security" with Professor Phillip Dawson from the Centre for Research in Assessment and Digital Learning (CRADLE), Deakin University, Melbourne, Australia
Register for the event here.
Next TEASIG event
Watch this space for details of our next TEASIG event.
Latest TEASIG event: 
TEASIG Online – September 25th 2021
"Lessons learnt from online assessment practices under Covid-19"
Live online sessions from guest presenters Lynda Taylor, Toni Mäkipää, Neil Bullock, Dina Tsagari, Asma Maaoui, Hanen Dammak, Emma Bruce and Heléna Stakounis, plus panel discussion and TEASIG updates.
Recording now available for TEASIG members in the SIG area on the IATEFL website.
Latest TEASIG webinar

On 13th May 2021, Ildiko Porter-Szucs, Ph.D. from Eastern Michigan University presented on "Content or Language: Do you Know Which One You're Assessing?"
Watch the recording here and download the slides here and Ildi's responses to the Q&A here.
Details of earlier webinars can be found on the Previous TEASIG webinars page. Recordings of previous webinars are available for TEASIG Members on the SIG page of the main IATEFL website.
———————————————————————-
IATEFL TEASIG runs a spotlight of one or two members in each issue of TEA Today. If you would like to be "interviewed", just answer the questions on the TEA Today page and send your answers to the Editors. TEASIG Member Spotlight features will be included in forthcoming issues.