Welcome to TEASIG, the Testing, Evaluation and Assessment Special Interest Group of IATEFL.
TEASIG is a professional body for the needs and interests of members of IATEFL in connection with testing, evaluation and assessment in all areas of English language teaching.  TEASIG aims to connect teachers and experts worldwide
TEASIG is a part of IATEFL, so in order to become a member of TEASIG you first have to become a member of IATEFL and select TEASIG as your special interest group during the registration process.
This site is your door to TEASIG and your way of connecting to people, resources and ideas across our fields.
Join TEASIG and find out more! 
Meet the TEASIG committee:
STOP PRESS!!!
TEASIG Today Issue 3 out now for TEASIG members
Log into the main IATEFL website and click on My Resources to access the latest issue.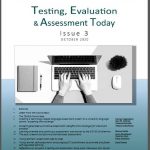 Contribute to TEASIG Today Issue 4! Download the Call for Papers here.
———————————————————————-
Next TEASIG webinar:
In collaboration with IATEFL English for Specific Purposes SIG:
Wednesday 12th May 2021 1800-1900 UK Local time/BST
"Content or Language: Do you Know Which One You're Assessing?" with Ildiko Porter-Szucs, Ph.D. from Eastern Michigan University
Further details on the Forthcoming Events page.
Registration is required and can be accessed via the IATEFL website at https://www.iatefl.org/events/223 or direct registration link to Zoom is https://us02web.zoom.us/webinar/register/WN_BmujUAvrS8K-ORWGt4Q3cw
*Certificates will be issued to those attending the webinar directly from IATEFL shortly after the event.
Next TEASIG event:
IATEFL 2020 Pre-Conference Event – carried forward to IATEFL 2021
June 18, 2021, Online
Download the programme for the TEASIG and IPSEN SIG pre-conference event.
Download the speaker profiles and abstracts for the TEASIG and IPSEN SIG pre-conference event.
TEASIG Showcase Day at IATEFL Online 2021
June 19, 2021, Online
Download the programme of talks chosen for the TEASIG Showcase day as part of the main IATEFL Online conference.
Latest TEASIG event: IATEFL 2019 Pre-Conference Event
1 April 2019, IATEFL Annual Conference, Liverpool
PCE presentations now available in Recent Events!
"Authenticity in Assessment of Productive Skills"
What is authenticity and why is it important in test task design?
How do we match the skills from authentic communication with test constructs?
How do we balance authenticity and practicality in test development?
How do we as teachers source and introduce our students to authentic tasks?
Using the CEFR what productive skills are important in maintaining authenticity?
Where does authenticity fit into formative and summative assessment?
How is authenticity and test validity linked and how can we prove it?
Is authenticity directly linked to test usefulness and washback?
What tools do we have to help us source authentic language?
In this two-part PCE our experts answered the questions above and more in their presentations and hands-on workshops to aid and assist teachers source and prepare their students for learning of speaking and writing language in real-world communication. They demonstrated how to integrate authenticity into both classroom assessment and larger scale test development in order to bridge the gap between what students learn and what they will use in their target language use domain – the real world that is!!
Latest TEASIG webinar

On 28 April 2021, Isabela Villas Boas presented on "An Ambidextrous Model of Assessment for the Second Language Writing Classroom".
Watch the recording here and download the slides here.
Details of earlier webinars can be found on the Previous TEASIG webinars page. Recordings of previous webinars are available for TEASIG Members on the SIG page of the main IATEFL website.
———————————————————————-
IATEFL TEASIG runs a spotlight of one or two members in each issue of TEA Today. If you would like to be "interviewed", just answer the questions on the TEA Today page and send your answers to the Editors. TEASIG Member Spotlight features will be included in forthcoming issues.