More in 2022:
Watch this space for details of future events,
Please note, for those unable to join us live, the recording will be available to everybody via the TEASIG website for 7 days after the event. IATEFL members will be able to access the recording at any time.
Anna Soltyska, TEASIG Webinar Moderator.
Future webinar dates for your diary
More details coming soon.
If you would like to give a webinar presentation in 2022 please contact us by e-mail at our normal address – [email protected].
The webinars are open to anyone. Details are always available on the TEASIG website.
– – – – – – – – – – – – – – – – – – –
Next TEASIG event:
Save the date for our Online Event on Saturday, 10 September from 09:00 – 12:30 UK time.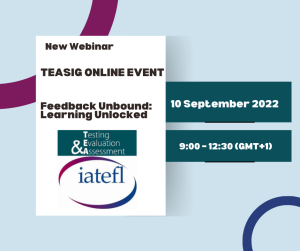 IATEFL TEASIG Online Event
Feedback Unbound: Learning Unlocked
Click here to see the full programme
---

PronSIG Online Conference 2022 [Conference Call]
Exploring effective pronunciation assessment practices
in the English language classroom
1st October 2022 (10am – 5pm UK time)
We are now accepting speaker proposals for our October online conference being held on Saturday, 1st October 2022.
If you would like to propose a presentation, poster, or workshop on the theme of pronunciation assessment, please read the event information and submission instructions and complete the submission form.
Learn more here: https://pronsig.iatefl.org/conferencecall2022/
Complete the submission form here: https://docs.google.com/forms/d/e/1FAIpQLScKMMSCcXdfORK-IA7rUThPwoa0_yOcbsKHJgG1oWU8YmfjOw/viewform