TEASIG Webinar series
IATEFL TEASIG has been offering webinars for 6 years and our series of presentations and discussion topics for teachers and testers continues in 2021.
In collaboration with IATEFL English for Specific Purposes SIG:

Wednesday 12th May 2021 Time: 1800-1900 UK Local time/BST. Please check the world clock here for your time.
"Content or Language: Do you Know Which One You're Assessing?" with Ildiko Porter-Szucs, Ph.D. from Eastern Michigan University
The fifth of TESOL's 6 Principles for Exemplary Teaching of English Learners states the need to monitor and assess student language development. Assessing language alone can present enough of a challenge if it is to be done well, not to mention when the learners' subject-matter mastery also needs to be assessed. Yet increasingly teachers in various second- and foreign-language contexts – e.g., ESP, CLIL, EMI – are called on to do just that. In this interactive presentation, after briefly touching on essential concepts such as construct and construct-irrelevant variance, we explore the extent to which it is possible to assess content without language. We analyze items, tasks, and rating scales that purport to do one or the other and examine how they can be improved. Time is reserved at the end of the presentation for a summary of best practices and questions.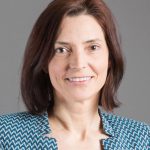 Ildiko (Ildi) Porter-Szucs, Ph.D., is Associate Professor of ESL/TESOL at Eastern Michigan University. She is former President of the Michigan Teachers of English to Speakers of Other Languages (MITESOL). Her scholarship over the last twenty years has covered a broad spectrum of topics, including teacher formation, pedagogy and methodology, pronunciation, formulaic language, and language assessment. She is currently co-authoring a textbook on assessment for pre- and in-service language teachers with a working title of How Do You Know That Your Students Are Learning: A Practical Guide to Language Assessment.

Registration is required and can be accessed via the IATEFL website at https://www.iatefl.org/events/223 or direct registration link to Zoom is https://us02web.zoom.us/webinar/register/WN_BmujUAvrS8K-ORWGt4Q3cw
Certificates will be issued to those attending the live webinar. Participants will receive details directly from IATEFL shortly after the event.
Please note, for those unable to join us live, the recording will be available to everybody via the TEASIG website for 7 days after the event. IATEFL members will be able to access the recording at any time.
Anna Soltyska, TEASIG Webinar Moderator.
Future webinar dates for your diary
More dates coming soon…
If you would like to give a webinar presentation in 2021 or 2022 please contact us by e-mail at our normal address – [email protected].
The webinars are open to anyone. Details are always available on the TEASIG website.
– – – – – – – – – – – – – – – – – – –
TEASIG conference events
IATEFL 2021 Online – Pre-Conference Event – TEASIG and IPSEN SIG
Accessible Assessments? : Inclusive Practices in Language Testing and Assessment
How can we make assessments more accessible for everyone?
What are the alternative inclusive methods of assessment?
What are the current exam access arrangements and accommodations? How can they be applied and implemented?
What are some ways to improve the accessibility of assessments?
How can we prepare disabled and neurodiverse learners for assessments?
Download the programme for the TEASIG and IPSEN SIG pre-conference event.
Download the speaker profiles and abstracts for the TEASIG and IPSEN SIG pre-conference event.
TEASIG Showcase Day at IATEFL Online 2021
June 19, 2021, Online
Download the programme of talks chosen for the TEASIG Showcase day as part of the main IATEFL Online conference.