TEASIG Webinar series
Our second webinar in 2020 will be on Tuesday 9th June at 1700-1800 UK /  1800-1900 CET, presented by Anna Soltyska.
"Language assessment is NOT a solitary activity – On teachers and testers' collaboration and its benefits for all stakeholders of the assessment process"
Although many (if not all) language teachers are somehow involved in assessment, several still perceive this activity to be rather a solitary one: teachers who design, administer and rate test tasks on their own. The webinar will raise awareness of various aspects of cooperation within and across teams of practitioners and show how such collaboration could facilitate their job and better reflect the current trend towards collaborative language learning and teaching. 
The webinar uses the example of a calibration project, which was conducted in two German university language centres in 2018-2019, and focused on B2 writing skills, to prove that a well-designed collaboration on test development and rating may bring about desirable positive outcomes. 
The participants of the webinar are encouraged to relate the project set up and evaluation to their individual contexts and settings. Hopefully, the transferable character of the conclusions will benefit numerous members of the TEASIG community.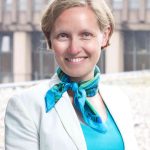 Anna Soltyska is a member of academic staff at the Language Centre of the Ruhr-University in Bochum (Germany) where she lectures English for General and Specific Academic Purposes. Her research interests include task-based learning, teaching and assessment, intercultural aspects of assessment-related malpractice, teaching foreign languages in plurilingual classrooms, validating assessment of writing skills, and integrating mediation activities in language learning and testing. 
The webinar is free, does not need advance registration, and can be accessed at: https://iatefl.adobeconnect.com/_a875541554/teasigwebinars/
Future webinar dates for your diary
Watch this space for more details about the following programme:
9th September 2020
"Testing Mediation"
Judith Mader & Rudi Camerer
20th October 2020
"The language test development process: Main principles and suggestions for classroom practice"
Olena Rossi
If you would like to give a webinar presentation in 2020 please contact us by e-mail at our normal address – [email protected].
The webinars are open to anyone. Details are always available on the TEASIG website.
– – – – – – – – – – – – – – – – – – –
TEASIG conference events
IATEFL 2021 Harrogate – Pre-Conference Event – TEASIG and IPSEN SIG
Accessible Assessments? : Inclusive Practices in Language Testing and Assessment
How can we make assessments more accessible for everyone?
What are the alternative inclusive methods of assessment?
What are the current exam access arrangements and accommodations? How can they be applied and implemented?
What are some ways to improve the accessibility of assessments?
How can we prepare disabled and neurodiverse learners for assessments?
Download the programme for the TEASIG and IPSEN SIG pre-conference event.
Download the speaker profiles and abstracts for the TEASIG and IPSEN SIG pre-conference event.