TEASIG Webinar series
'Developing and Using Bilingual Rubrics for Assessment of Writing and Speaking Skills in the Classroom' with Santosh Mahapatra
Tuesday 24th September 2019
Time: 1700-1830 UK Local time (1800-1930 CET)
TEASIG's first autumn webinar offers insights into how to familiarize teacher-participants with the idea of creating and using bilingual rubrics for assessment of speaking and writing skills in the classroom. In the first part of the webinar, the focus will be on steps involved in developing context-specific and need-based bilingual rubrics. The second part will be devoted towards discussing how to use these rubrics for assessing speaking and writing skills in the classroom. In addition, a brief discussion on evaluating the effectiveness of rubrics will be undertaken. Considering that bilingual rubrics are an exciting new prospect in the area of classroom assessment and can be effectively integrated into ESL and EFL classrooms, the webinar can be expected to benefit ESL and EFL teachers.
The webinar will be available at https://iatefl.adobeconnect.com/_a875541554/teasigwebinars/.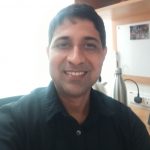 Santosh teaches academic English and guides doctoral research at BITS Pilani Hyderabad Campus, India. He is also working as the Assistant Coordinator for Aptis Action Research Mentor Scheme (ARMS) 2019-20, a British Council-run project to promote classroom-based research in India. His current research interests are teacher development in classroom assessment and technology integration, and critical analysis of policies and practices related to English language education.
If you would like to give a webinar presentation in 2019 or 2020 please contact us by e-mail at our normal address – [email protected].
The webinars are open to anyone. Details are always available on the TEASIG website.
– – – – – – – – – – – – – – – – – – –
TEASIG conference events
IATEFL 2020 Manchester – Pre-Conference Event – TEASIG and IPSEN SIG
Accessible Assessments? : Inclusive Practices in Language Testing and Assessment
Call for Papers now open.
How can we make assessments more accessible for everyone?
What are the alternative inclusive methods of assessment?
What are the current exam access arrangements and accommodations? How can they be applied and implemented?
What are some ways to improve the accessibility of assessments?
How can we prepare disabled and neurodiverse learners for assessments?
Please download, complete and submit the proposal form by Friday 27th September 2019.