Download the programme for the TEASIG and IPSEN SIG pre-conference event.
Tuesday 25 October 2022 5:00-6:00 UK
Title: Developing institutional listening tests
Speaker: Michael Fields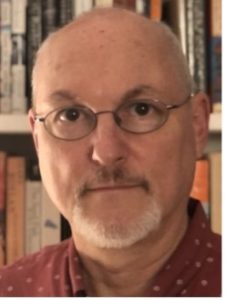 The presentation:
This practice-focused talk detailed the process of developing a suite of listening tests in a large public university: from writing text and items, to recording sound files, through piloting the tests, running an item analysis and then editing to create final forms. In addition to the complex technical challenges, the role of collaboration with all stakeholders was examined
The speaker:
Michael Fields is an assistant professor at the University of Delaware's English Language Institute (USA), and the chair of the assessment committee. He earned an MA in Applied Linguistics from Leicester University, specialising in language assessment. He is a writer and editor for Cambridge exams and has contributed to standards setting for the TOEFL. 
Recording: The recording of the webinar will be available only to TEASIG members in the members' area ("My resources") of the IATEFL website. 
---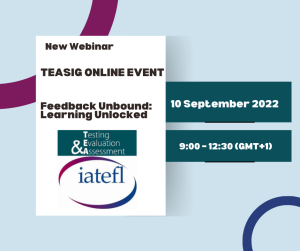 IATEFL TEASIG Online Event
Feedback Unbound: Learning Unlocked
"one of the most powerful influences on learning'' (Hattie & Timperley, 2007:81).
This often-cited quote captures the importance of feedback for learning. Feedback is a broad concept with several purposes achieved through a range of activities. Feedback can be summative, formative, developmental or judgemental, planned or ad hoc, it can motivate learning or diminish confidence. With such considerable impact on the learner and the learning process, feedback should be handled with thought, skill, and care. Ideally, feedback should be considered when planning a lesson to ensure the method befits the purpose to optimise learning opportunities. Learners need awareness of the importance of feedback and how it can help them to set learning goals and develop strategies towards meeting them. As a concept, feedback, if used well, promises benefits but can be challenging to implement effectively.
This online seminar explored the value and challenges of feedback from different perspectives. Presenters shared insights and experiences from the field which provided a platform for discussion with participants.
Click here to see the programme, and the presenters' biodata
---

PronSIG Online Conference 2022 
Exploring effective pronunciation assessment practices
in the English language classroom
1st October 2022 (10am – 5pm UK time)
Whether formative or summative, assessment is a routine part of almost every English language teacher's repertoire. However, when it comes to assessing oral communication, and in particular, pronunciation, for many years there has been an absence of specialist publications, research, and training. This has meant that teachers have often gone without guidance on best practice in the fundamentals, i.e. how to evaluate pronunciation, what features to assess, and for what purpose. Thankfully, in the last decade the visibility of pronunciation assessment has started to improve as studies and publications focusing on it increase. But until these changes trickle down into the mainstream, there may be teachers who still feel unprepared to tackle pronunciation assessment.
This online conference aimed to highlight the process of pronunciation assessment, the challenges it can bring, and offer practical suggestions to support its implementation.
Click here to see the full programme and the participants' information 
---
TEASIG Pre-conference Event (PCE) 2022: Integrated Assessment Approaches – 16 May 2022
How has the recent upheaval in teaching and learning impacted on assessment approaches and practices? One clear opportunity in the move to online learning and testing is the chance to re-visit and re-imagine integrated skills assessment, capitalising on the work on mediation in the CEFR Companion Volume.
With talks from testing specialists working in the area of integrated skills assessment and workshops to explore task design, scoring and reporting approaches, TEASIG's 2022 PCE gave attendees useful insights, experience and activities for working with integrated assessment approaches.
 TEASIG PCE programme 2022 with abstracts and biodata
Alina Reid, who gave both a plenary and a workshop focussing on reading-into-writing tasks has kindly shared her slides. You can download them here and  here
TEASIG Showcase day 2022 @ IATEFL Belfast 55th International Conference – 18 May 2022
The TEASIG Showcase Day during the IATEFL Conference in Belfast included a variety of testing and assessment presentations and workshops. It culminated with the Open Forum,  a chance to find out more about TEASIG and its activities, get to know fellow members, and win a raffle prize!
Download the speaker profiles and abstracts for the TEASIG and IPSEN SIG pre-conference event.