TEASIG at CRELLA October 28-29, 2017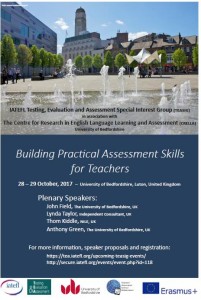 The IATEFL Testing, Evaluation and Assessment Special Interest Group (TEASIG) in association with The Centre for English Language Learning and Assessment (CRELLA), University of Bedfordshire organised a two-day seminar on Building Practical Assessment Skills for Teachers t on 28th and 29th October 2017 at the University of Bedfordshire, Luton, United Kingdom.
Download the conference programme.
Plenary speakers were:
John Field, The University of Bedfordshire, UK
Lynda Taylor, Independent Consultant, UK
Thom Kiddle, NILE, UK
Anthony Green, The University of Bedfordshire, UK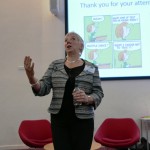 .
 .
  .
  .
 .
 .
 .
 .
.
Conference speakers' presentations will be added here as they are received.
TEASIG at IATEFL 51, Glasgow, 3 – 7 April 2017
We are delighted to share a selection of photos below. Watch this space for more content from the TEASIG & ESPSIG Pre-Conference Event and the TEASIG Day.
.
.
.
.
.
.
.
.
.
.
.
.
.
.
.
.
.
.
———————————————————
TEASIG Webinar Series
Most recent webinar: 24/10/17 Jo Tomlinson "Developing a test: Where do you start? When should you stop?"
Access the webinar recording here.
Recordings of the archived webinars in TEASIG's webinar series will be available through the MyTEASIG link above.
Luke Harding 7/1/2015 "Adaptability & ELF Communication"
Dr Neil Jones 11/3/2015 "Learning Orientated Assessment"
Thom Kiddle 6/5/2015 "Text difficulty and item development"
Dr Judith Hanks 8/7/2015 "Issues in designing assessments and marking criteria for an MA in Professional Language and Intercultural Studies"
Glyn Jones 21/10/15 "Finding the levels: a look at some of the research that underpins the Common European Framework"
Tony Green 2/12/15 "Learning oriented test preparation"
Carolyn Westbrook 31/3/16 "Practical considerations in ESP testing"
Sheila Thorn 11/5/16 "An exploration of listening testing"
Clare Fielder 5/7/16 "Assessing and Marking Writing: Feedback Strategies to Involve the Learners"
Vivien Berry and Susan Sheehan 21/9/16 "A Practical Introduction to Language Assessment for Teachers"
Cornée Ferreira  20/12/16 "Implementing Assessment for Learning Step by Step"
Ben Beaumont  11/04/17 "Practical ways to develop teachers' assessment literacy"
Anna Soltyska  06/06/17 "Malpractice in language assessment: who are you kidding?"
Daniel Xerri  05/09/17 "Enhancing assessment literacy through teacher involvement"
Jo Tomlinson 24/10/17 "Developing a test: Where do you start? When should you stop?"
———————————————————
TEASIG CONFERENCE AIGLE 28-29 OCTOBER 2016:
From Theory into Practice – Assessment Literacy in the Classroom
The latest TEASIG conference took place in Aigle, Switzerland on the 28th and 29th October 2016, under glorious blue skies and golden autumn sunshine. Over 80 delegates and partners attended the event which looked at the theme of assessment literacy in teaching and how we can integrate more the idea of testing, examinations and assessment into the learning process. Indeed by the final day speakers were talking more about whether this is in fact learning literacy and that assessment is in fact an integral part of this. This final point was carried through into the panel discussion at the end of  day 2.
Plenary speakers, Barry O'Sullivan, Nick Saville, Carolyn Westbrook, and Ian Wood, tackled the topic from their own angles which blended into a smooth mix with those of the talks and workshops, given by the delegates. Feedback from delegates was very positive on all accounts and we are now busy working to bring you the next TEASIG conference in 2017… more news on this soon.
See photos from the Aigle event here.
Presentations slides are available below:
Testing the Untestable (Judith Mader & Rudi Camerer)
Assessing Speaking in our Brave New World (Sharon Hartle)
Bridging the Gap (Ben Beaumont)
Fostering Assessment Literacy – the Teacher Education perspective (Lynn Williams)
IELTS STEP Washback (Mehtap Ince)
The Positive Impact of Cambridge English CB Exams on learning and teaching (Lori Kaithan)
Language testing and assessment needs and wants across Europe (Karin Vogt)
The case of aviation English (Neil Bullock)
Implementing Assessment For Learning (Corne Ferreira)
Assess for Success (Sheri Henderson)
Breaking out of the box (Nick Saville)
———————————————————
TEASIG Conference Events
Click on the links below for information and photo galleries of recent TEASIG events.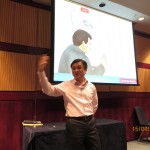 TEASIG members and contributors have access to all conference proceedings. One article from the proceedings of the 2014 TEASIG Conference in Granada Spain can be found below.
Irina Pavlovskaya  is a TEASIG scholarship winner and will be speaking at the TEASIG Day on 15 April at the 2016 IATEFL Conference in Birmingham.
Sample article from the Conference Proceedings (Pavlovskaya 2014)