TEASIG Webinar series
11/12/18 1700 UK / 1800 CET – "Bringing LOLA to life – Learning Oriented Language Assessment in practice"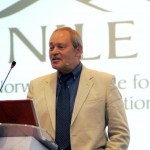 Dave Allan, Norwich Institute for Language Education
This webinar explores the potential of LOLA, a trend of increasing significance over the last decade, considering the extent to which more recent approaches to large-scale test delivery can bring together more effectively both formative and summative test purposes, combining national system analysis and individualised feedback. The session will look at key characteristics of LOLA and report on a 7-year national project to make LOLA real.
Dave Allan is the President and Founding Director of NILE, which offers training and CPD to language education professionals in Norwich, online and worldwide. A former TEASIG Co-ordinator and present member of the TEASIG Committee, he has run courses and led projects in over 40 countries for over 40 years.
Access the webinar here: https://iatefl.adobeconnect.com/_a875541554/teasigwebinars/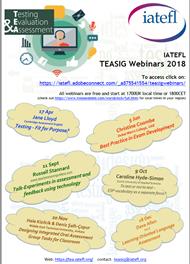 Speaker details for webinars in 2018 are available here and if you would like to give a webinar presentation in 2019 please contact us by e-mail at our normal address – teasig@iatefl.org.
The webinars are open to anyone. Details are always available on the TEASIG website.
– – – – – – – – – – – – – – – – – – –
TEASIG conference events
IATEFL Testing, Evaluation and Assessment Special Interest Group TEASIG Pre-Conference Event
1 April 2019, IATEFL Annual Conference, Liverpool
"Authenticity in Assessment of Productive Skills" 
What is authenticity and why is it important in test task design?
How do we match the skills from authentic communication with test constructs?
How do we balance authenticity and practicality in test development?
How do we as teachers source and introduce our students to authentic tasks?
Using the CEFR what productive skills are important in maintaining authenticity?
Where does authenticity fit into formative and summative assessment?
How is authenticity and test validity linked and how can we prove it?
Is authenticity directly linked to test usefulness and washback?
What tools do we have to help us source authentic language?
In this 2-part PCE our experts will answer the questions above and more in their presentations and hands-on workshops to aid and assist teachers source and prepare their students for learning of speaking and writing language in real-world communication. We will demonstrate how to integrate authenticity into both classroom assessment and larger scale test development in order to bridge the gap between what students learn and what they will use in their target language use domain – the real world that is!!
The PCE is aimed at teachers with all levels of experience who wish to expand or refresh their knowledge on this subject and put it to practical use. There will also be room for questions to the speakers during our panel discussion on best practice at the end of the afternoon.
Speakers (Plenaries and Workshops)
John Pill, Lancaster University:

Plenary – Authenticity in Assessment: What does it mean?
Workshop – Finding a Balance between Authenticity and Practicality in Test Development 
Sian Morgan, and Andrew Kitney, Cambridge English:

Plenary & Workshop – Authenticity: Turning Theory into Tasks 
Dana Gablasova, Lancaster University:

Plenary – Computer-Aided Approach to Language Testing
Workshop – Corpus Analysis of Language for Testing Purposes
For full details of the presenters and their abstracts, click here.
Plenaries will take place in the morning session and the three 50-minute workshops will take place after lunch followed by the panel discussion with the three speakers and moderated by TEASIG committee members.
Registration is part of the IATEFL conference package: https://secure.iatefl.org/registration/conf_reg_login.php