TEASIG Webinar series
22/10/18 – "To Test or not to test – ESP vocabulary as a separate focus?"
Caroline Hyde-Simon, Zurich University of Applied Sciences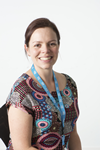 Nowadays, ESP teachers are tending to move away from the traditional method of giving students lists of ESP vocabulary to learn and testing it through translation or term/definition exercises. Instead, it is more important to consider the application of the vocabulary, i.e. whether a student in a particular discipline can utilize specific vocabulary items in a suitable context for that discipline (meaning-focused output, Nation, 2001). This webinar takes these two perspectives into account in an investigation of whether embedded testing is as valid as discrete testing in ESP, or, indeed, of whether the field of ESP demands context-dependent testing in order to be an effective method of assessment.
Caroline is Lecturer in English at the Zurich University of Applied Sciences, Switzerland. Her main research interests include the crossover between ESP and EAP, ESP course design and the teaching/testing of ESP vocabulary. She is also IATEFL ESPSIG Events Coordinator.
Access the webinar here: https://iatefl.adobeconnect.com/_a875541554/teasigwebinars/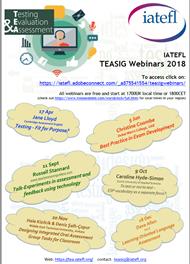 Speaker details for webinars in 2018 are available here and if you would like to give a webinar presentation in 2019 please contact us by e-mail at our normal address – teasig@iatefl.org.
The webinars are open to anyone. Details are always available on the TEASIG website.
– – – – – – – – – – – – – – – – – – –
TEASIG conference events
"Technology for teachers in assessment – the immediate future"
1 & 2 November, 2018  –  Pearson English, 80 Strand, London – Download the conference booklet here.
Plenary Speakers
David Booth – Integrated skills testing and automated scoring – where are we going?
Larry Davis & Veronica Timpe Laughlin – Assessing spoken interaction: How can technology help?
Peter Cormack – Teaching to the test- construct relevant and irrelevant approaches
Aylin Ünaldi – Automatic Text Analysis in Reading Research and its use in Reading Assessment
Technology, despite its extremely broad context, is omni-present in todays teaching world and its benefits are evident across many different teaching domains. The use of the internet, tablets, laptops, mobile phones, learning apps, social media… the list of where technology has influenced and infiltrated teachers' and learners' worlds is endless. Learners can benefit from the use of technology like never before. Even the recently accepted expression "e-learning" differentiates today's teaching and learning from an older style of course book and whiteboard.
So much has changed in such a short space of time, but many teachers feel they are running just to stand still. The endless list of new software and apps means daily challenges that are difficult to meet. The very speed of technological change has lead to widespread resistance.
Testing and assessment has not been spared the technological onslaught either. Larger and smaller scale testing has clearly benefitted from advances such as online testing, ease of preparation material, more objective marking, ability to source and prepare authentic material, whilst audio and video software has made test material development so much easier. But, like learning, technology has brought about criticism and resistance in the world of testing and assessment. Amongst major concerns are keyboard inputs in listening tests where older students can struggle, adding construct irrelevant variance. Using online testing to assess spoken interaction has been criticized for not replicating a real-world human communication. Certain test service providers advertise online testing as a huge advantage without any clear evidence to support this. Additionally test security can easily be compromised by the ability to record tests on hidden portable electronic devices.
All is not lost however! TEASIG's Autumn seminar is aimed at opening doors for teachers with practical insights and hand-on workshops which will aim to support and encourage teachers involved or likely to be in assessment and testing. It will offer advice and theoretical analysis to show how technology can really help teachers really benefit from technology in all modes of assessment which in turn can be transmitted to their learners.
Further details of speakers and the full programme will be announced very shortly, so watch this space.
Numbers for this event are limited and you can register now at: http://secure.iatefl.org/events/event.php?id=161