TEASIG Webinar series
24th October 2017 at 1700UK / 1800CET
Jo Tomlinson will be speaking on: "Developing a test: Where do you start? When should you stop?"
This webinar is a practical session for teachers who have been tasked with developing tests either in-class or for their institution. The session will outline practicalities and test purposes and how these can influence the types of test you might create. We will look at ways of quality controlling test development (addressing concepts of both validity and reliability), as well as considering task and item types, in terms of their benefits, pitfalls and practicalities.
Jo Tomlinson works as an exam and materials developer at Target English. She holds a DELTA and an MA in Language Testing and has worked for universities, private colleges and testing companies across the UK. She is the co-author of titles including Listening for IELTS, Grammar for IELTS, Expert IELTS and Collins Academic Skills: Lectures. When she is not writing, she teaches and delivers teacher training sessions in the areas of academic English and exam preparation.
The link to the webinar will be posted here on 24 October.
Speakers for further webinars in 2017 are being organised and if you would like to give a webinar presentation please contact us by e-mail at our normal address – teasig@iatefl.org.
The webinars are open to anyone. Details are always available on the TEASIG website.
– – – – – – – – – – – – – – – – – – –
TEASIG conference events
TEASIG at CRELLA October 28-29, 2017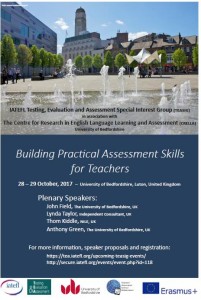 The IATEFL Testing, Evaluation and Assessment Special Interest Group (TEASIG) in association with The Centre for English Language Learning and Assessment (CRELLA), University of Bedfordshire is pleased to announce a two-day seminar on Building Practical Assessment Skills for Teachers to be held on 28th and 29th October 2017 at the University of Bedfordshire, Luton, United Kingdom.
Assessment can have transformational effects on learning. Effective assessment underpins language learning, but poor assessment practices can reduce motivation and undermine the curriculum. Teachers are being asked to take more and more responsibility for assessing learners and urgently need to develop expertise in assessment. Yet surveys and experience have repeatedly shown that their knowledge and skills in this critical area fall well short of what is needed. This is hardly surprising because assessment, if included at all in teacher training programmes, is often treated as an afterthought: the final chapter in the book and the last module of the course.
This two-day conference will focus on teachers and the uses of assessment in the classroom. With plenaries from the leading voices in this field, we will bring together cutting-edge theoretical insights and examples of implementation in a range of educational settings. Participants will take away practical suggestions for their classrooms as well as new perspectives on the issues they face every day in their working contexts.
The event will take place within the context of the Teachers Assessment Literacy Enhancement – TALE Project supported by the Erasmus+ Programme of the European Union. This project is developing training materials for teachers that can be used within training programmes, or through self-access. Participants will have the chance to explore and comment on pilot versions of the courses on offer.
Plenary speakers will be:
John Field, The University of Bedfordshire, UK
Lynda Taylor, Independent Consultant, UK
Thom Kiddle, NILE, UK
Anthony Green, The University of Bedfordshire, UK
Online registration is now open at: https://secure.iatefl.org/events/step1.php?event_id=118
We look forward to seeing as many of you as possible at the event as presenters and delegates.
2018 IATEFL Conference – TEASIG Pre-Conference Event
The PCE will be on 9th April 2018 and registration is here https://conference.iatefl.org/
Assessment of Listening
Listening is often seen as the most difficult language skill for educators and learners to really understand. Assessment and testing of listening can prove even more of a challenge for those who need to understand exactly what skills we want to test and how to do it. These include understanding cognitive processing, sourcing appropriate materials (authentic or scripted), statistics, item writing, and more. The challenges are many and not easy for teachers to address for their students. In this 2-part PCE we will be attempting to take the lid of this mysterious world with the help of experts and practitioners in this domain.
In the morning session, three keynote experts from the field of Listening – Rita Green, Sheila Thorn and John Field – will look at how cognitive processes work to help teachers get to grips with what learners are actually doing when listening, we will look at sourcing materials for learners – whether scripted or authentic for their real world objectives – and we will look into how large scale tests are written and what receptive skills they actually tap into to assess listening. Finally we will show in layman's terms how statistical analysis is used to prove that listening assessment really does do the job it is supposed to, in helping give teachers a clearer picture of what their skills students are demonstrating.
In the afternoon session workshops will be organised to help teachers focus on the ideas from the morning session and, with the help of further experts and practitioners sharing their knowledge and views, conduct hands-on workshops where teachers can put this knowledge into practice.
The PCE is aimed at all teachers, whether they are new to this aspect of testing, evaluation and assessment or wish to refresh their knowledge and put it to practical use. There will also be room for questions to experts and discussion of best practice. Further details of the sessions and workshops will be announced very shortly.