TEASIG Webinar series
11/9/18 – "Assessment methods: The pros and cons and associated challenges"
There is no perfect single assessment method to reliably and validly measure learner outcomes. Some assessment methods are better suited for measuring different learning outcomes than others. This webinar will address the advantages and disadvantages of several assessment methods and discuss their associated challenges.
We are happy to announce the fourth TEASIG webinar of 2018 which will take place on Tuesday 11th September, at 1700 (5pm) UK local time / 1800 (6pm) CET. The speaker is Charalambos Kollias.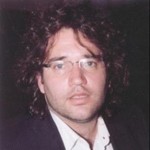 Charalambos (Harry) Kollias (Ph.D.) works for Oxford University Press as an Assessment Research and Analysis Manager. He has over 30 years' experience in the education sector in roles ranging from teacher, teacher trainer to assessor trainer and (co)author of examination materials. With over 15 years' experience in the assessment field, his areas of specialism include measurement analysis (pre- and post-test analysis), test material development, alignment studies, (virtual) standard setting workshops, and research studies. He has presented at several international conferences. His main interests are (virtual) standard setting, Rasch measurement theory, and language assessment.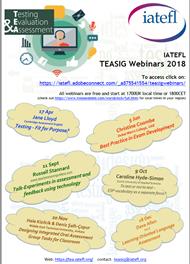 Speaker details for webinars in 2018 are available here and if you would like to give a webinar presentation in 2019 please contact us by e-mail at our normal address – teasig@iatefl.org.
The webinars are open to anyone. Details are always available on the TEASIG website.
– – – – – – – – – – – – – – – – – – –
TEASIG conference events
Details on 2018 and 2019 TEASIG conference events coming soon.