TEASIG Webinar series
Watch this space for details of the next TEASIG webinar.
Speakers for further webinars in 2017 are being organised and if you would like to give a webinar presentation please contact us by e-mail at our normal address – teasig@iatefl.org.
The webinars are open to anyone. Details are always available on the TEASIG website.
– – – – – – – – – – – – – – – – – – –
TEASIG conference events
TEASIG at CRELLA October 28-29, 2017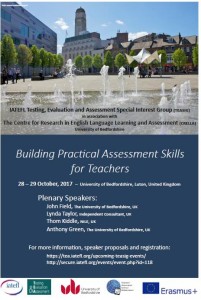 The IATEFL Testing, Evaluation and Assessment Special Interest Group (TEASIG) in association with The Centre for English Language Learning and Assessment (CRELLA), University of Bedfordshire is pleased to announce a two-day seminar on Building Practical Assessment Skills for Teachers to be held on 28th and 29th October 2017 at the University of Bedfordshire, Luton, United Kingdom.
Assessment can have transformational effects on learning. Effective assessment underpins language learning, but poor assessment practices can reduce motivation and undermine the curriculum. Teachers are being asked to take more and more responsibility for assessing learners and urgently need to develop expertise in assessment. Yet surveys and experience have repeatedly shown that their knowledge and skills in this critical area fall well short of what is needed. This is hardly surprising because assessment, if included at all in teacher training programmes, is often treated as an afterthought: the final chapter in the book and the last module of the course.
This two-day conference will focus on teachers and the uses of assessment in the classroom. With plenaries from the leading voices in this field, we will bring together cutting-edge theoretical insights and examples of implementation in a range of educational settings. Participants will take away practical suggestions for their classrooms as well as new perspectives on the issues they face every day in their working contexts.
The event will take place within the context of the Teachers Assessment Literacy Enhancement – TALE Project supported by the Erasmus+ Programme of the European Union. This project is developing training materials for teachers that can be used within training programmes, or through self-access. Participants will have the chance to explore and comment on pilot versions of the courses on offer.
Plenary speakers will be:
John Field, The University of Bedfordshire, UK
Lynda Taylor, Independent Consultant, UK
Thom Kiddle, NILE, UK
Anthony Green, The University of Bedfordshire, UK
Call for Papers
We welcome proposals from language teachers and researchers working in assessment, as well as practitioners of assessment literacy, to come and share their practical experiences with learners and of training and supporting teachers to make effective use of assessment. We aim to build a cooperative environment where we can all work together to improve our testing and assessment practices. Call for Papers has now closed, although late entries may be accepted until the 15th July at the latest.
Please download the Call for Papers and the Speaker Proposal Form and feel free to circulate this to colleagues who you think might be interested.
Online registration is now open at: https://secure.iatefl.org/events/step1.php?event_id=118
We look forward to seeing as many of you as possible at the event as presenters and delegates.
2018 IATEFL Conference – TEASIG scholarships
TEASIG will once again be awarding scholarships for teachers to attend the IATEFL 2018 Annual Conference in Brighton, UK and to give a presentation on the TEASIG Day.
These scholarships are for up to two teachers who are members of IATEFL and are interested in contributing to the work of TEASIG.
The closing date for applications is 16.00 (UK Time) Tuesday 18th July 2017. Any applications received after this time will not be accepted.
Information about IATEFL scholarships can be found here: https://conference.iatefl.org/scholarships.html
and details of the TEASIG scholarship here: https://conference.iatefl.org/downloads/scholarships/TEASIG%20Scholarships_2018_v1.pdf