TEASIG Webinar series
17/4/18 – Testing – Fit for Purpose?
We are happy to announce the second TEASIG webinar of 2018 which will take place on Tuesday 17th April, at 1700 (5pm) UK local time / 1800 (6pm) CET. The speaker is Jane Lloyd from Cambridge Assessment English.
More details coming soon.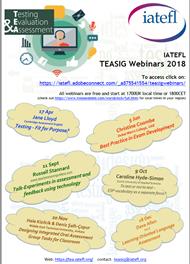 Speaker details for webinars in 2018 are available here and if you would like to give a webinar presentation in 2019 please contact us by e-mail at our normal address – teasig@iatefl.org.
The webinars are open to anyone. Details are always available on the TEASIG website.
– – – – – – – – – – – – – – – – – – –
TEASIG conference events
2018 IATEFL Conference – TEASIG Pre-Conference Event
The PCE will be on 9th April 2018 and registration is here https://conference.iatefl.org/
See the PCE programme here.
Assessment of Listening
Listening is often seen as the most difficult language skill for educators and learners to really understand. Assessment and testing of listening can prove even more of a challenge for those who need to understand exactly what skills we want to test and how to do it. These include understanding cognitive processing, sourcing appropriate materials (authentic or scripted), statistics, item writing, and more. The challenges are many and not easy for teachers to address for their students. In this 2-part PCE we will be attempting to take the lid of this mysterious world with the help of experts and practitioners in this domain.
In the morning session, three keynote experts from the field of Listening – Rita Green, Sheila Thorn and John Field – will look at how cognitive processes work to help teachers get to grips with what learners are actually doing when listening, we will look at sourcing materials for learners – whether scripted or authentic for their real world objectives – and we will look into how large scale tests are written and what receptive skills they actually tap into to assess listening. Finally we will show in layman's terms how statistical analysis is used to prove that listening assessment really does do the job it is supposed to, in helping give teachers a clearer picture of what their skills students are demonstrating.
In the afternoon session workshops will be organised to help teachers focus on the ideas from the morning session and, with the help of further experts and practitioners sharing their knowledge and views, conduct hands-on workshops where teachers can put this knowledge into practice.
The PCE is aimed at all teachers, whether they are new to this aspect of testing, evaluation and assessment or wish to refresh their knowledge and put it to practical use. There will also be room for questions to experts and discussion of best practice. Further details of the sessions and workshops will be announced very shortly.
2018 IATEFL Conference – TEASIG Showcase Day – 11 April